Women of Kiğı oppose mine construction: They should take their hand off our nature
A mine is planned to be built in Kiğı for the extraction of lead, silver and zinc. "Our nature has been already damaged after the construction of the dam. They want to damage our nature again," women living in Kiğı say.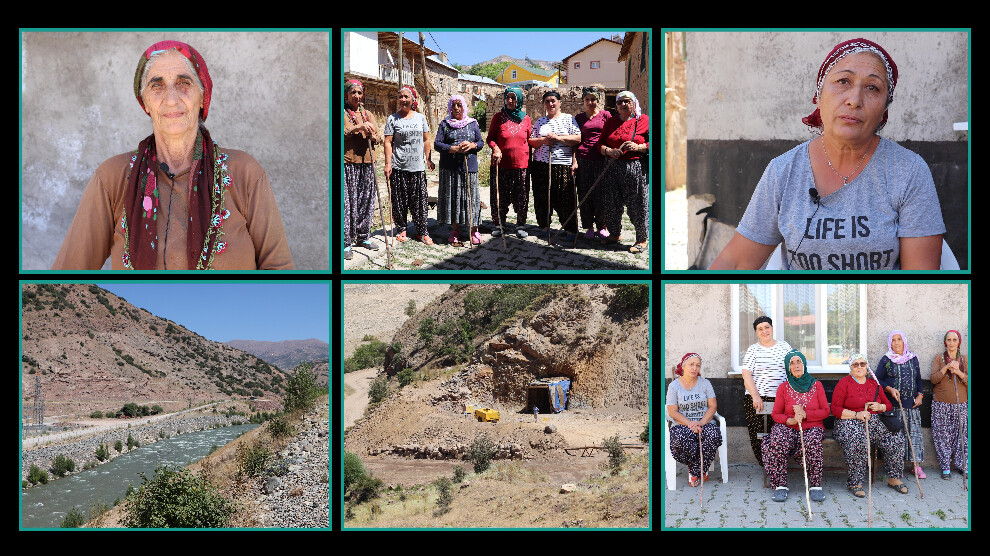 MEDİNE MAMEDOĞLU
Çewlîg- Bingöl Metal Mining plans to build a mine in an area of approximately 500 hectares, in the villages of Eskikavak, İlbey, Maltepe, Aysaklı in the Kiğı (Gêxî) district and their hamlets for the extraction of lead, silver and zinc. The construction of the mine has already started in the Peri Valley. The EIA has recently given a positive report to the Complex Ore Mine Project. The people in the region react to the construction of the mine and positive EIA report and say, "We will not allow the mine to be built in our region."
Many villages get sick due to water pollution
After receiving the positive report of the EIA, the company has already begun to dig the mountains and caused water pollution. Many people living in the villages close to the mining area get sick because their drinking water has been polluted. Complaining about the dam, which prevents them from doing animal husbandry and agriculture in their region for years, the women living in the villages are afraid of being without water when the construction of the mine completes. The women we interviewed told us that their nature is damaged by the dam and the construction of the mine and that the state aims to depopulate the region by allowing dams and mines to be built in their region.
"Their aim is to destroy the region"
Sabahat Bayakır, one of the women we interviewed, said that the villagers do not want the mine to be built in their region. "All villagers have been sick for days because our drinking water has been polluted. This construction harms our nature, people and animals. Their aim is to destroy our region."
"They should take their hand off our nature"
Underlining that they do not want the mine to be built, Sabahat Bayakır said, "If necessary, we will take to the streets to protest the construction of the mine. Enough is enough. They should take their hand off our nature. Our hamlets are our source of living. For this reason, we do not leave our region and we will not leave."
"The mine will double the damage of the dam"
Ayten Kartak thinks the mine will double the damage of the dam in the region. "They first built a dam here. After the construction of the dam, our water was cut off. We do not want this mine to be built here because we do not have enough water for our animals and the people in the village. This mine will destroy our nature. We did not want the dam to be built in our region but they built it. Now, we do not want this mine to be built here. We will not allow them to build this mine here; we will prevent them."
"Enough is enough!"
Selime Bayakır is another woman we interviewed. She said, "We are beekeepers and have agricultural land. But they pollute our water. The dam has already damaged our nature. Now, they aim to pollute our water. We do not want this mine to be built in our region. Enough is enough! We cannot live without water. We will protest the construction of the mine."